Chór parafii p. w. św. Bartłomieja w Goraju zdobył Brązową Wstęgę Solczy (III miejsce) na V Międzynarodowym Festiwalu Pieśni Chóralnej w Ejszyszkach na Litwie, który odbył się w dniach 11-12 czerwca 2016 r.
W zmaganiach konkursowych 11 czerwca 2016 r. rywalizowały ze sobą 23 chóry z Litwy, Białorusi i Polski.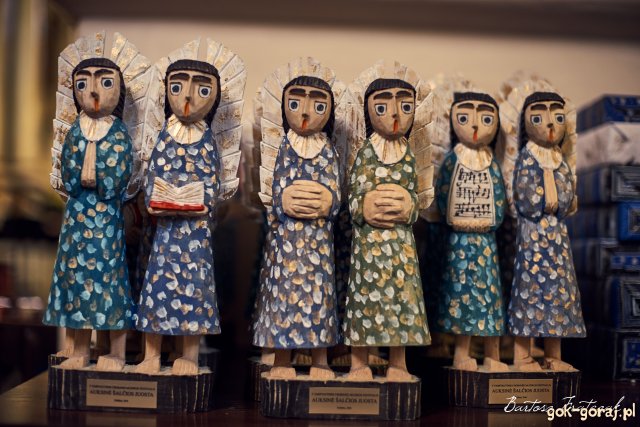 Zespoły oceniało międzynarodowe jury w składzie prof . dr hab. Wioletta Miłkowska (Akademia im. F. Chopina w Warszawie filia w Białymstoku), dr hab. Iwona Wiśniewska ? Salamon (Instytut Muzyki Uniwersytetu Zielonogórskiego), Marina Kirejewa (Państwowy Uniwersytet Pedagogiczny im. A. I .Gertsena w Petersburgu), Rasa Gelgotien? (Litewska Akademia Muzyki i Teatru).
Chór z Goraja zachwycił jurorów świetną intonacją oraz przemyślanym, dobrze dobranym repertuarem. W Ejszyszkach chór zaprezentował następujące utwory:
1. ?Najświętsza Dziewico? – A. Gouzes, adaptacja polska J. Gałuszka
2. ?Kyrie i Gloria? – Mariana Sawy
3. ?Czerwone Maki na Monte Cassino? – opr. D. Adamska
4. ?Oj, nasi jadą? – opr. S. Rożdżyński
Przed ogłoszeniem wyników wszystkie chóry uczestniczyły we Mszy Św., na której wspólnie wykonały pieśni i części stałe w języku litewskim, łacińskim i włoskim. Chór gorajski został poproszony o samodzielne wykonanie części ?Gloria? z własnego repertuaru. Było to dla chórzystów duże wyróżnienie.
Gościem specjalnym pierwszego dnia festiwalu był państwowy chór ?Vilnius?. Wysłuchanie koncertu tego zespołu było wspaniałym przeżyciem i niesamowitą ucztą duchową.
Festiwal w Ejszyszkach cechuje miła i przyjazna atmosfera oraz wysoki poziom wykonawczy chórów. To największy w rejonie solecznickim konkurs chóralny, którego celem jest upowszechnianie śpiewu chóralnego i integracja środowiska chóralnego. Organizatorem tego przedsięwzięcia jest Centrum Kultury w Solecznikach i Parafia Wniebowstąpienia Pańskiego w Ejszyszkach.
D.A.